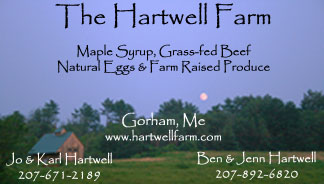 Thanks for stopping in!

Jo Hartwell

The Hartwell Farm

Jocelia & Karl Hartwell
Jo: 207-671-2189
19 N. Gorham Rd
Gorham, ME 04038
View map.
Printable map.

All content subject to copyright © 2010-2014 Attitudes By Design.
It is a violation of copyright laws to use any of these Photos or Graphics without written permission from the owner of these images.