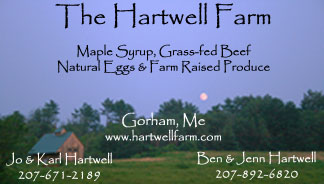 Welcome to the Hartwell Farm's online site. Thanks for stopping by, and please feel free to take a look at the services and events our farm has to offer. March sees the sugar house here opening it's doors for Maple Sunday on the fourth Sunday of the month between 9am and 4pm. Bring your family out to learn about the fascinating tradition of making maple syrup. See how sap is transformed into syrup in our hand hewn timber-frame sugar house over a crackling wood fired evaporator. Tradition at it finest, with the nostalgic smells of wood smoke and sweet maple steam. For more information of the work involved in the syrup process, click our sugar house link on the left of this page. A full Blueberry and sausage pancake breakfast will be available in the morning and our own Grass-fed beef burgers for lunch. Come early- the burgers sell out quickly each year!

Some of the offerings to found at Jo's Sugar-house:

Maple Syrup in all sizes and grades
Maple Cotton Candy
Maple Fudge
Maple Sugar
Vintage Painted Sap Buckets
Gift Baskets
FREE samples of syrup on ice cream


Please enjoy your visit, and give us a call or email.

Maple Sunday will soon be here! Join us in March for our annual Sausage & Blueberry Pancake Breakfast! Nothing beats farm made cakes drizzled in Maine made Maple Syrup with wild Maine blueberries. Can't make breakfast? Join us for lunch when we serve up our own Sebago Lake Ranch, all natural, Grass Fed beef. A fun filled day for the family, sampling syrup drizzled ice cream and other farm prodcuts. Nothing is more of a spring tradition in Maine like Maple Sunday! We have expanded our Maple Products line and have some very exciting new offerings- stop by to see what the fuss is about!

Jo Hartwell

The Hartwell Farm

Jocelia & Karl Hartwell
Jo: 207-671-2189
19 N. Gorham Rd
Gorham, ME 04038
View map.


All content subject to copyright © 2010-2014 Attitudes By Design.
It is a violation of copyright laws to use any of these Photos or Graphics without written permission from the owner of these images.