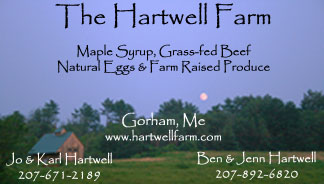 Welcome to Hartwell's Sugar House! There's something special about this time of year when the sweet aroma of maple is in the air. A common sight on these cold spring nights are the sparks shooting from the chimney of our hand hewn Timber framed Sugar House. Inside, the crackling of the fire can be heard from the wood fired evaporator, along with the rolling boil of sap, slowly transforming into pure maple syrup. It's a labor of love, collecting sap from over 200 taps on frigid days and tending the slow process of boiling into the late hours. However, one taste of our syrup, and you'll know why we do it. There's just nothing else like it. If you didn't get one of our mailed postcards, consider the one below your personal invitation to join us the fourth Sunday of March from 9am to 4pm to celebrate Maple Sunday here in Maine. We look forward to seeing you! We will be offering the following:

Blueberry Pancake Breakfast
Grass Fed Beef Burger Lunch
Maple Syrup in all sizes
Maple Sugar
Maple Fudge
Maple Lollipops
Maple Cotton Candy
Spiced Maple Nuts
Other Maple Items...
Hartwell Farm Collectors Sap Buckets
Maple Gift Baskets
Maple Syrup on Ice Cream Samples!

---



Please enjoy your visit, and give us a call or email.

Join us this March for our annual Blueberry Pancake Breakfast! Nothing beats farm made cakes drizzled in Maine made Maple Syrup. Can't make breakfast? Join us for lunch when we serve up our own Sebago Lake Ranch, all natural, Grass Fed beef. A fun filled day for the family, sampling syrup drizzled ice cream and other farm prodcuts. Check out our 2007 article from the Portland Press Herald!



Sweet Maple Steam!

Hot syrup ready to be bottled.

The Hartwell Farm

Jocelia & Karl Hartwell
Jo: 207-671-2189
19 N. Gorham Rd
Gorham, ME 04038
View map.
Printable map.

All content subject to copyright © 2010-2014 Attitudes By Design.
It is a violation of copyright laws to use any of these Photos or Graphics without written permission from the owner of these images.